---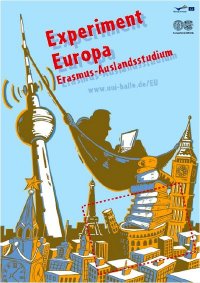 Go abroad with ERASMUS
Here you can obtain information about the ERASMUS programme, our partner faculties and the application process.
Our answers to the FAQs you will find here.
If you want to read reports from former ERASMUS students, you can find these here.
Please also note the current information hereinafter.
Dear students,
our application deadlines are:
for the winter semester: 15th February
for the summer semester: 15th August
Important: The submission deadline for Universität Zürich and Cardiff University is on February 15th for both winter and summer semester!
*You will find the current application form in the menu on the right.*
We are looking forward to your applications!
*Please note that students for the summer semester can only be given a study place if there are remaining places that were not released in the application process for the winter semester.
Therefore, if you want to have the whole selection of study places available for your application, we recommend to apply with the students applying for the winter semester (until 15th February).
An overview of the remaining study places for the summer semester is published on our website at the latest in May.*

News and current announcements
Appointments
* Consultation during the Summer Semester 2018:
Mondays: 9 - 11 am
Thursdays: 3.30 - 5.30 pm
* Deadline for applications for the Spring Semester 2019: 15th of August 2018.
Consultation
17.06.2018: From tomorrow, Monday, June 18th, on our consultation will take place as usual.
We`re happy to see you! :)
DAAD-GoEast-Program 2019 - Polish Law
12.04.2018: We invite you kindly to apply for the `School of Polish Law`, organized by the Jagiellonen-Univeristy of Krakow.
For further Information, please check:
www.sdpr.eu.com und www.llm.law.uj.edu.pl
The application deadline is the 1st of December 2018.

2018 Summer Programs of The University of Chicago Law School
15.01.2018: The Summer Institute for Law and Economics, will be held July 9-20, 2018 at the University of Chicago Law School. This program, now in its 7th year, is created for professors, lecturers, post-doctoral fellows as well as policymakers, judges and researchers. Interested academics may apply here: https://www.law.uchicago.edu/lawecon/summerinstitute
by February 26, 2018.
The inaugural Law and Economics Lecture Series will be held at The University of Chicago's Center in Paris, June 25-29, 2018. The Lecture Series is intended for active academics and researchers working in the field—junior faculty, post-docs, and advanced PhD students. Interested scholars may register here: https://www.law.uchicago.edu/events/paris-2018
More information about both can be found online at https://www.law.uchicago.edu/events/paris-2018 and https://www.law.uchicago.edu/lawecon/summerinstitute .
If you have any questions, please feel free to contact either Prof. Ben Shahar or Ms. Curtrice W. Scott.
Bei Interesse können wir euch gerne die ausführliche Einladung zur Verfügung stellen. Schreibt uns dazu einfach an erasmus@jura.uni-halle.de
New partner universities in Portugal and Greece
10.01.2018: We are happy to announce that our Faculty has two new ERASMUS-partnerships with the Universidade de Coimbra in Portugal and the National and Kapodistrian University of Athens in Greece!
Financial Law and Financial Sciences
13.02.2017: The Masaryk University in Brno, Czech Republic, is opening a new four-year Doctoral Study Programme, held in English:
Financial Law and Financial Sciences
For more information about the programme please visit:
ERASMUS-Büro Jura goes Facebook
Dear ERASMUS-interested students,
you can find us on Facebook from now on. To receive our latest news just like our page !
Your ERASMUS-Team
---
---